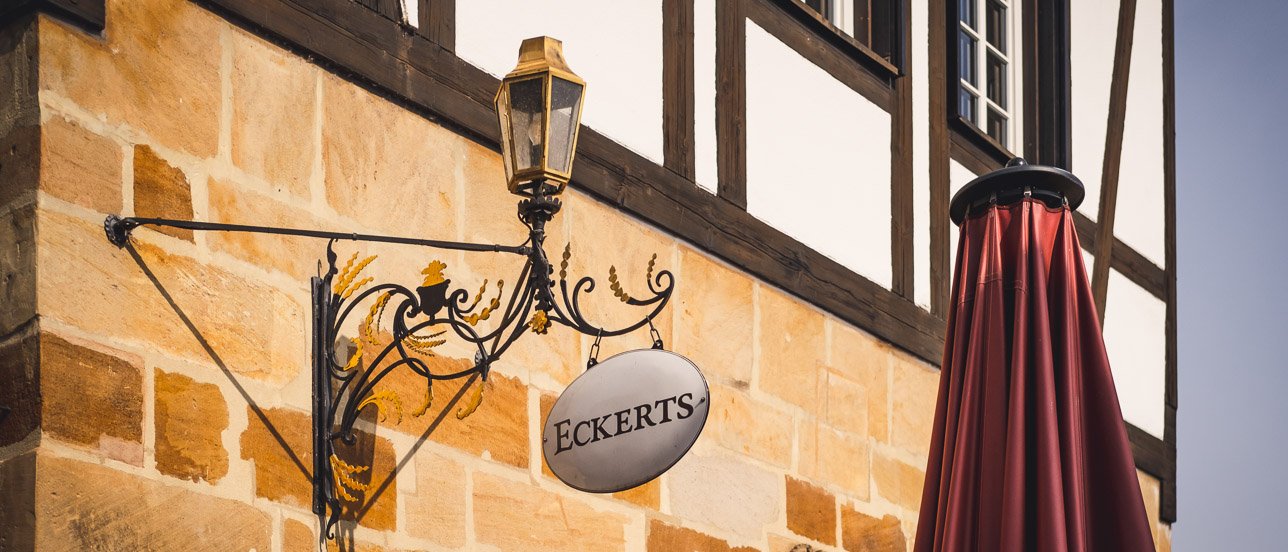 FAQ Eckerts Restaurant
Here you will find answers to frequently asked questions about your visit to Eckerts Restaurant
Accessibility
ECKERTS Restaurant is easily accessible without barriers thanks to the ground-level entrance. In the bar area by the fireplace, all tables are barrier-free. There are more tables in the living room, which is reached by a staircase with several steps; this area is not barrier-free. Please let us know when making your reservation so that we can take this into account when choosing a seat and reserve a table for you in the bar area. A barrier-free toilet is available. Please ask our service team.
Allergens and additives
Information on allergens and additives is available at the counter. Simply contact one of our service staff. If you need a special preparation of your food, e.g. gluten-free dishes, we ask you to coordinate this with us in person or by telephone with sufficient advance notice. A note in the online reservation is not sufficient.
Dogs at Eckerts Restaurant
Four-legged friends welcome: Bring your friendly and trained dog with you, they will find a nice place under the table and will not disturb the other guests who want to dine without pets. A sip of water is of course also available on request.
Families & kids
Whether as a couple, with your children or with the whole family: we will find a nice place for you. The little ones can comfortably take part in the activities at the table from the high chair. And we also have something for the "little" hunger, even if it's not on the menu - please ask our staff.
Groups
ECKERTS Restauarnt offers plenty of space and great opportunities for meetings, discussions or celebrations in larger groups. Since we want to be available to all guests every day, complete rentals or very large group events are unfortunately not possible.
Meals are available at the following times: Breakfast: Monday to Sunday

7:00 a.m. to 11:30 a.m.
Dinner à la ECKETRS:
Monday, Tuesday,
Friday to Sunday
Snacks, tartes, ice cream & desserts
3:00 p.m. to 9:15 p.m.
Starters & main courses
5:30 p.m. to 9:15 p.m.
Opening times of ECKERTS Restaurant in Bamberg Breakfast every day:
7:00 a.m. to 1:00 p.m.
On Monday, Tuesday, Friday
Saturday, Sunday und public holidays
3:00 p.m. until midnight
Short winter break ECKERTS Restaurant is closed until February 10
Parking at ECKERTS Restaurant
Due to the unique location of ECKERTS Restaurant in the middle of the historic mill district of Bamberg, there are no parking spaces directly at the house. The nearest multi-storey car park is the City-Altstadt underground car park at Geyerswörthstraße 5 (Google maps). From there you can easily reach the Eckerts Wirtshaus in about 5 minutes. You can easily reach us on foot or by bike from either bank.
Payment
You are welcome to pay at ECKERTS Restaurant in cash, with EC card (MAESTRO), with your VISA, MASTER or AMEX card or with a valid voucher. You can also use Apple Pay. We do not accept American Express or Diner cards.
Reservations
Reserve your table conveniently and easily online. Our online reservation is secure, simple and requires no login. Try it out!
Smoking
In Bavaria, pubs, restaurants, inns etc. have been smoke-free since 2008. Smoking is permitted on our terraces; please ask one of our service staff for an ashtray. Please also be considerate of the guests at your neighboring table in the outdoor area. Thank you.
Vegan food and drinks
It's more than just a trend and it's now an integral part of our diet: vegan food and drinks. You will usually find at least one vegan dish on our menu, and of course there are also vegan alternatives to milk when it comes to coffee. If you are unsure, simply contact us.