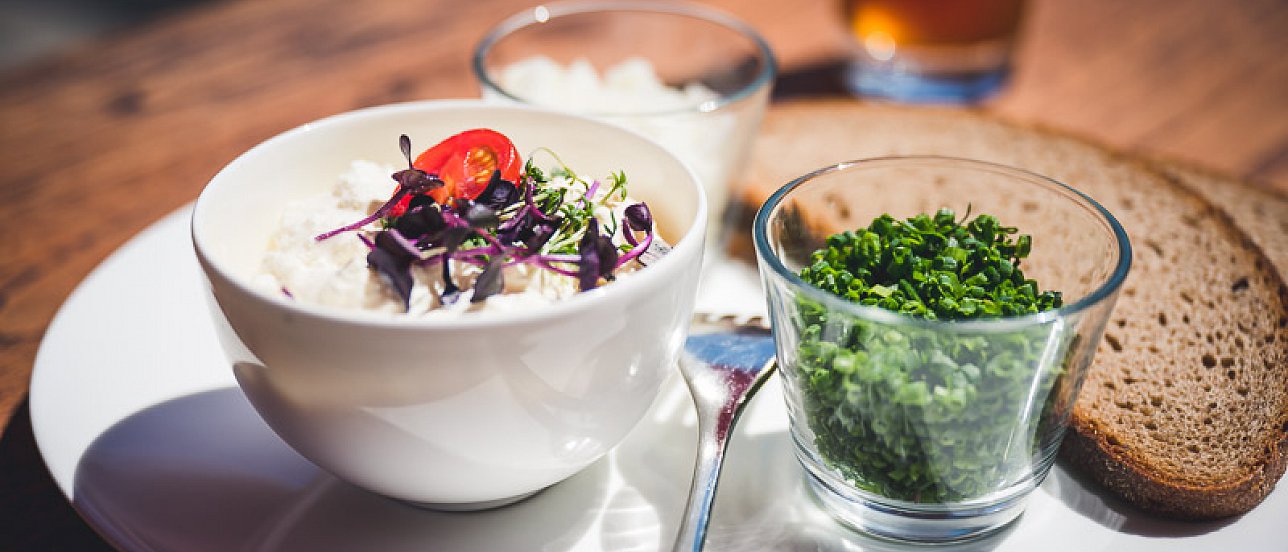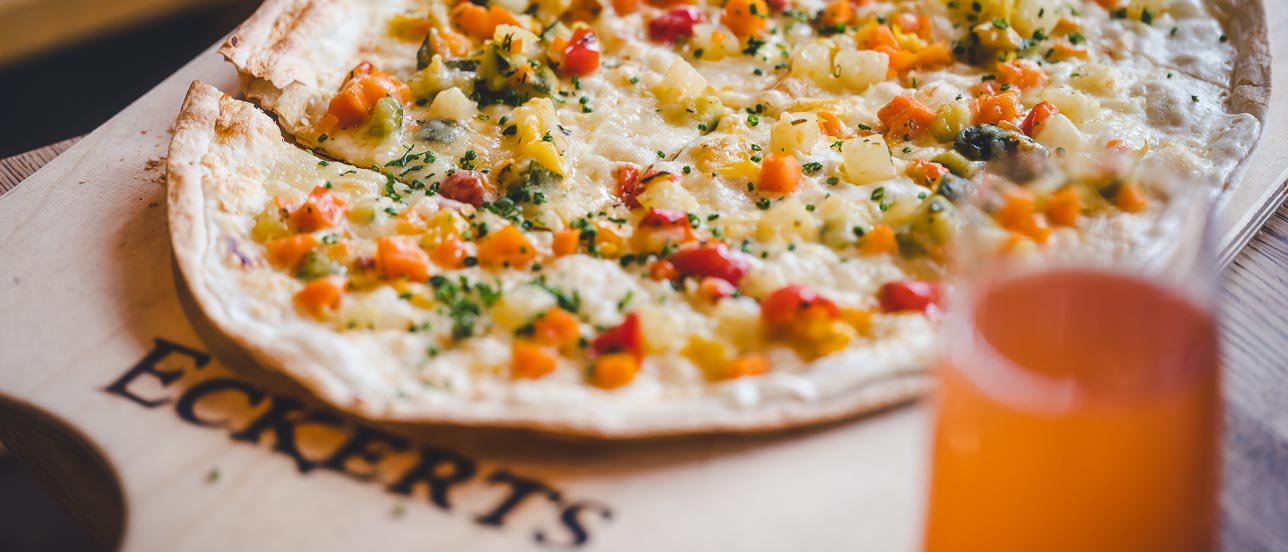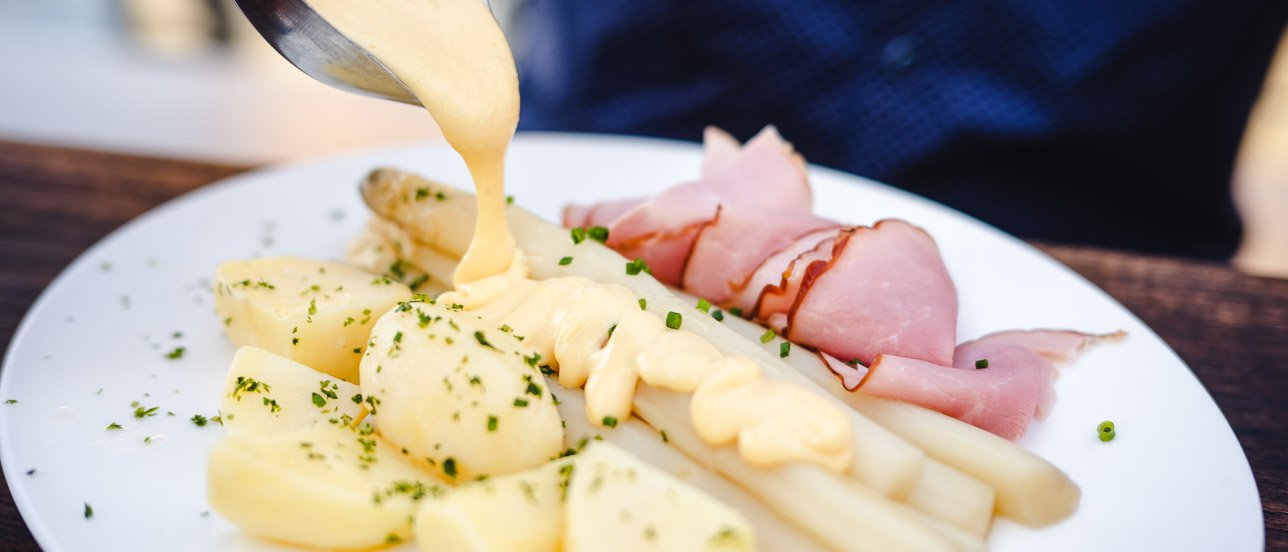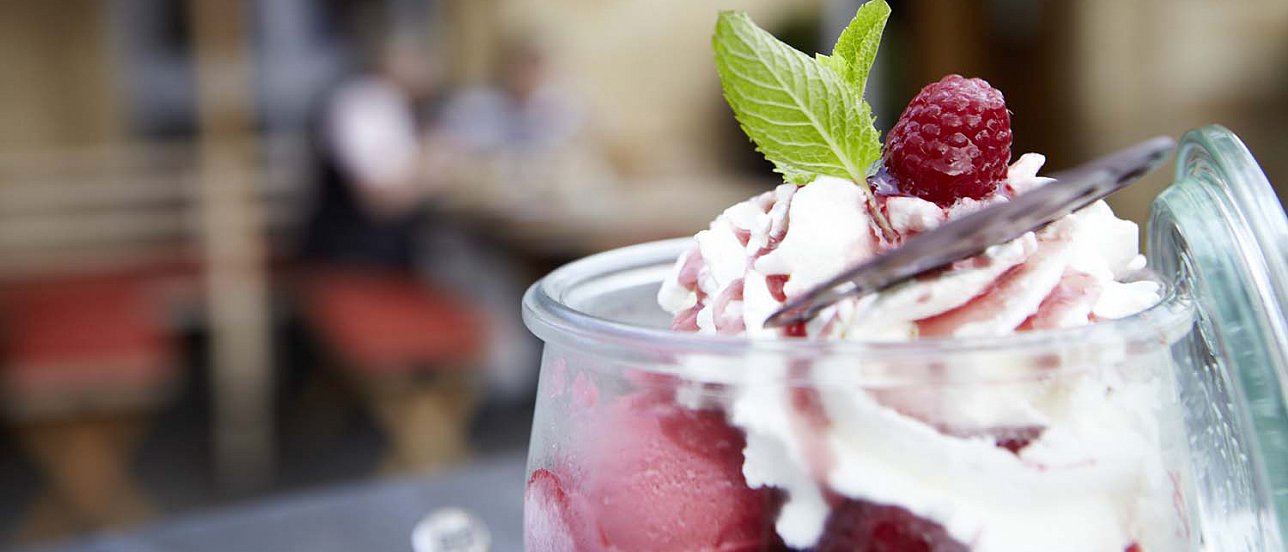 The Eckerts Dinner
Starters
Venison broth
with venison liver spaetzle and vegetable confit
€ 6.80
Asparagus soup
with asparagus rolls
€ 6.80
Baked goat cheese
with rhubarb-olive confit, salad and baguette
€ 11.80
Fried rabbit liver
with bay leaf jus, salad and baguette
€ 11.80
Roasted pork belly
with salmon trout tartare, beetroot puree, olive tapenade, rocket salad and baguette
€ 11.80
Tartes and snacks
Tarte Classic
with bacon and hard cheese, baked in a stone oven
€ 10.80
Tarte Vegetarian
with vegetables and hard cheese, baked in a stone oven
€ 10.80
Eckerts Tarte
with orange sour cream, white asparagus, smoked salmon and hard cheese, baked in a stone oven
€ 14.80
Cottage cheese
with onions, chives, lettuce and farmhouse bread
€ 9.40
Asparagus salad
with 6 Nuremberg sausages, mustard mayonnaise, farmhouse bread and butter
€ 13.40
Meat, fish & vegan
Vegan spaghetti
with coconut chervil sauce, fried green asparagus and marinated strawberries
€ 17.80
Chicken goulash
with butter spaetzle and salad
€ 16.40
Roast pork
with creamy beans and potato dumplings
€ 14.80
Asparagus from Poxdorf village
with buttered potatoes, melted butter or hollandaise sauce
€ 19.20
Asparagus from Poxdorf village
with cooked ham, buttered potatoes, melted butter or hollandaise sauce
€ 21.80
Asparagus from Poxdorf village
with small breaded pork schnitzel, buttered potatoes, melted butter or hollandaise sauce
€ 22.20
Saddle of fallow deer
with jus, strips of young savoy cabbage, peppered apricots and duchess potatoes
€ 32.60
Fried zander fillet
with Silvaner sauce, radish-apple vegetables, sun-dried tomatoes 1nd homemade pasta
€ 21.20
Friday, Saturday & Sunday from 5:30 p.m.:
Poxdorf farmer's duck
from the poultry farmer Markus Werner from Poxdorf, with creamed savoy cabbage and potato dumplings
€ 19.60
Dessert & ice cream
Strong & sweet
small nougat brownie with Eckert's orange-vanilla liqueur and white coffee ice cream
€ 6.20
Praline parfait
with Bavarian cream and berry ragout
€ 8.20
Rhubarb-mascarpone cream
with rhubarb-strawberry ragout and yoghurt-raspberry ice cream
€ 7.80
Eckerts beer sundae
three scoops Eckerts beer ice cream, beer syrup cream and brittle
€ 7.40
Fruit sundae
with fruits, two scoops of yoghurt raspberry ice cream and whipped cream
€ 7.40
Devils sundae
chocolate, chocolate chili and raspberry ice cream with cream and raspberries
€ 7.80
Walberla cherry sundae
cherry, chocolate and vanilla ice cream, cream, cherries and grated chocolate
€ 7.80
Nuts sundae
three scoops of speculoos ice cream with whipped cream, mulled wine cherries and a speculoos crunch
€ 8.80
Iced coffee
coffee, two scoops vanilla ice cream and whipped cream
€ 6.40
Iced chocolate
drinking chocolate, two scoops chocolate ice cream and whipped cream
€ 6.40
Milkshake
choice of two scoops of our ice cream, milk and whipped cream
€ 6.40
Scoop of homemade Eckerts ice cream
Flavours: Eckerts beer, vanilla, stracciatella, chocolate, chocolate-chili, hazelnut, raspberry, yoghurt-raspberry, strawberry, cherry
€ 1.70
Subject to short-term changes to the menu. Information on allergens and additives is available at the counter.
There is something for every taste!
Our kitchen team reinterprets traditional dishes and mainly prepares regional and seasonal products freshly by hand. We focus on the modern, urban implementation of Franconian hospitality. Fine soups or salads, tarte flambée from the stone oven, or meat and fish specialties leave nothing to be desired. And if there's still room, it's worth taking a look at our desserts!