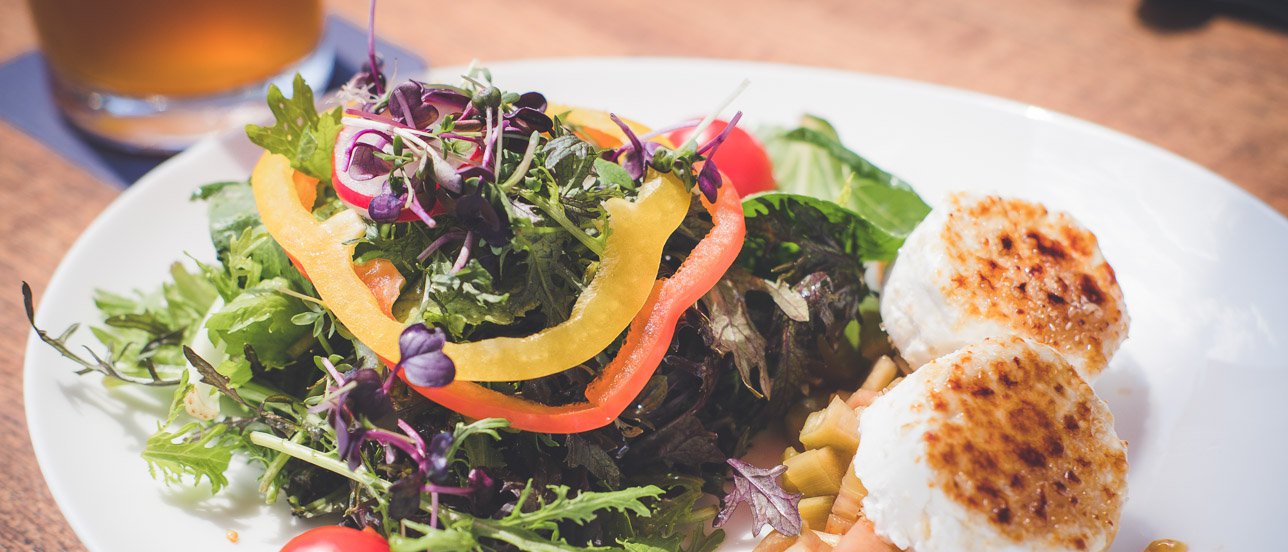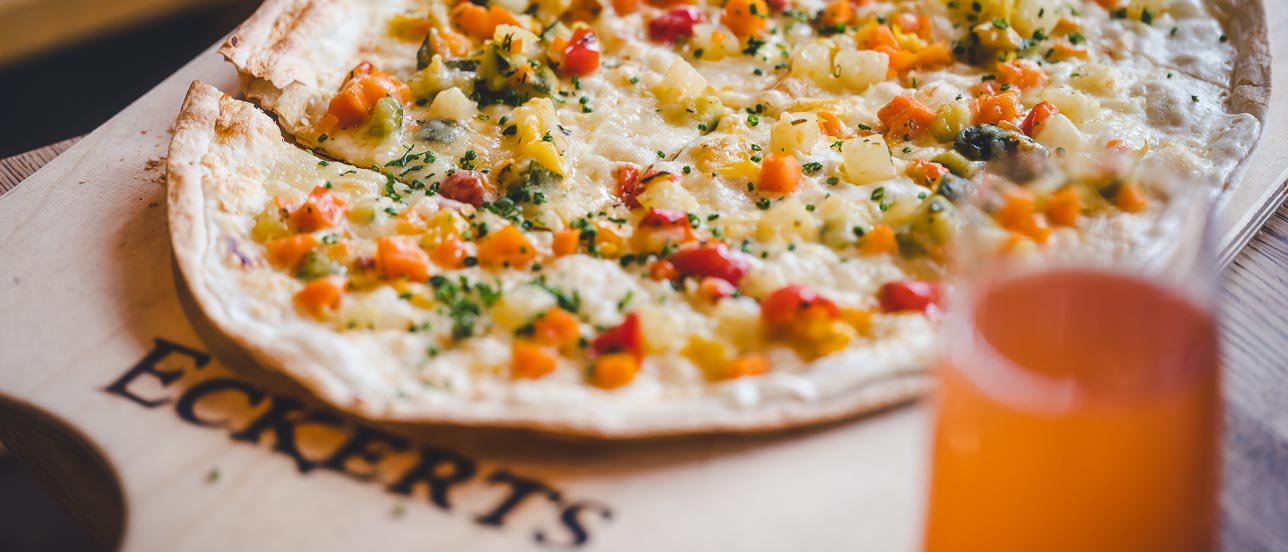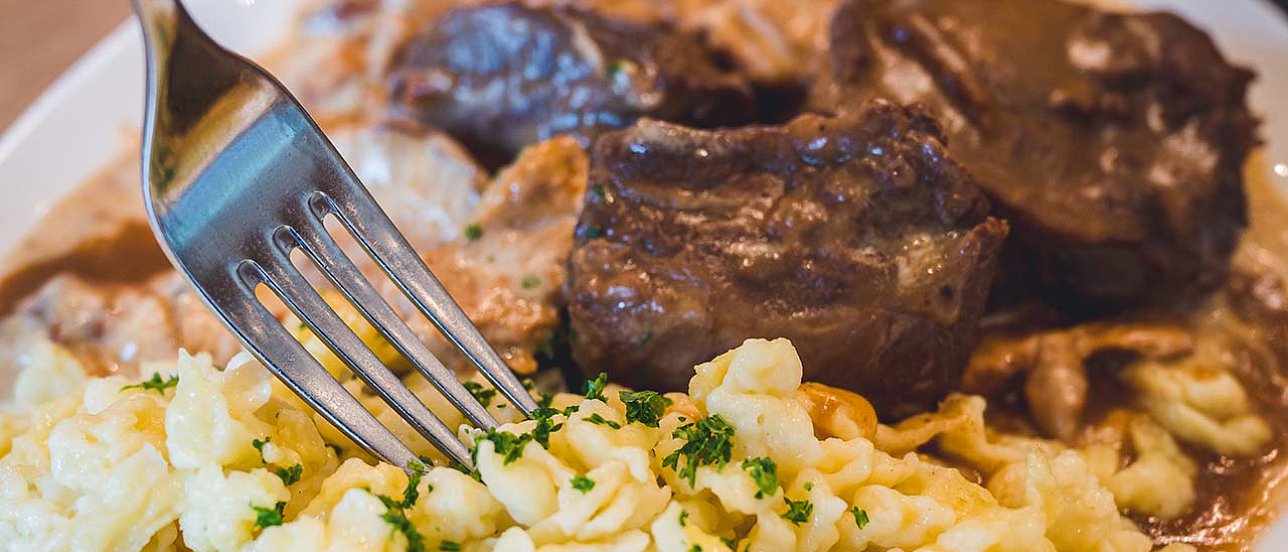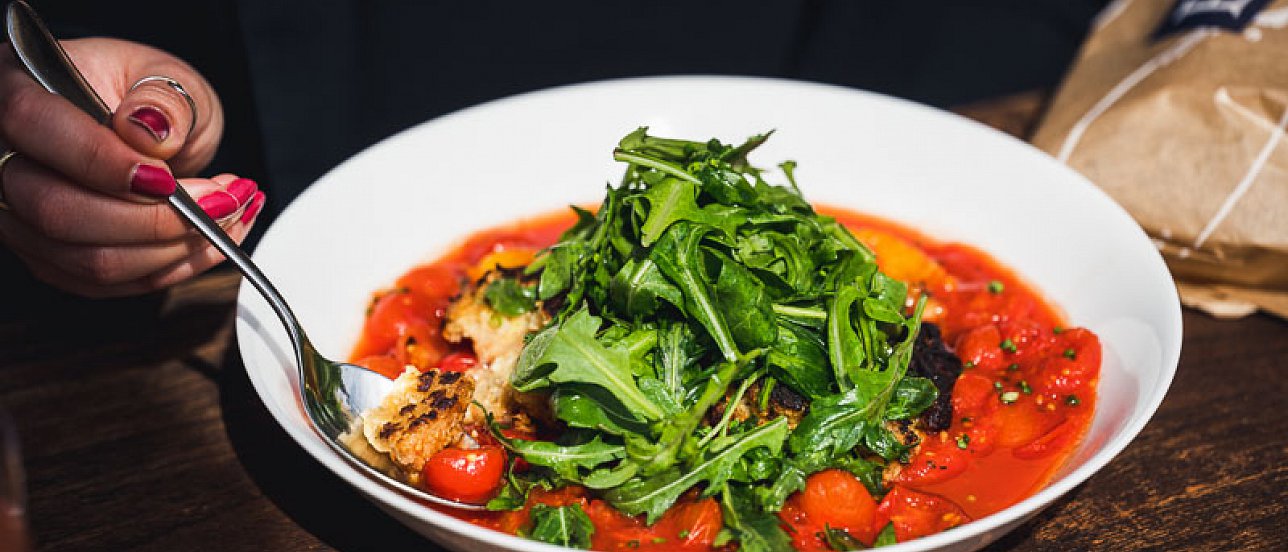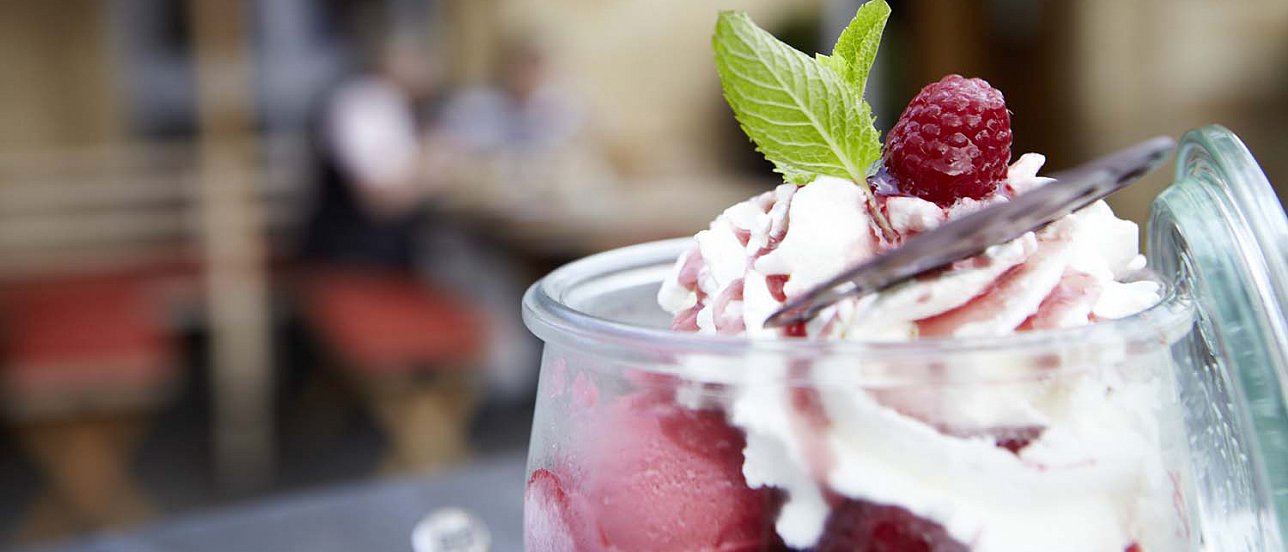 The Eckerts Dinner
Starters
Duck consommé
with duck liver spaetzle and vegetable confit
€ 6.40
Apple and celery soup
with strips of air-dryed ham
€ 6.40
Lamb's lettuce with fried goose liver
with balsamic vinegar, glazed apple slices and baguette
€ 11.80
Red rice salad
with pomegranate seeds, diced red onions, caramelized cashews, cranberry essence and baguette
€ 11.20
Trout mousse
on beetroot carpaccio, horseradish dressing, salad bouquet and baguette
€ 11.20
Tartes and snacks
Tarte Classic
with bacon and hard cheese baked in a stone oven
€ 10.60
Tarte Vegetarian
with vegetables and hard cheese baked in a stone oven
€ 10.60
Eckerts Tarte
with horseradish sour cream, dill pickles, smoked salmon, hard cheese from the organic cheese dairy Oeffner, baked in a stone oven
€ 14.60
Various smoked mackerel fillets
with a bouquet of salad, farmhouse bread, butter and horseradish
€ 12.40
1 pair of Franconian sausages
with sauerkraut, mustard and farmhouse bread
€ 11.20
Meat, fish & vegan
Vegan coconut patties
with coffee creamy oat soup, roasted broccoli and cranberry chutney
€ 17.20
Pork fillet
with creamy pepper sauce, sweet and sour swede and butter spaetzle
€ 19.20
Roast fallow deer
with red cabbage and roasted dumpling
€ 19.80
Braised beef cheek
with Pinot Noir jus, creamy savoy cabbage strips and duchess potatoes
€ 19.60
Breaded veal escalope
with salad and French fries
€ 22.20
Corn Chicken Breast
with sherry cream sauce, sautéed Chinese cabbage and homemade noodles € 18.80
Hake fillet
with Silvaner sauce, rye pilaf, grilled parsley root and red onion chutney
€ 20.80
Dessert & ice cream
Strong Christmas
homemade stollen confectionery with vanilla crescent cream liqueur and small Dalgona coffee
€ 5.80
Curd foam
with marinated oranges and caramel ice cream
€ 7.60
Goat cream cheese parfait
with pickled cherries and rosemary ice cream
€ 7.80
Devils sundae
chocolate, chocolate chili and raspberry ice cream with cream and raspberries
€ 7.20
Walberla cherry sundae
cherry, chocolate and vanilla ice cream, cream, cherries and grated chocolate
€ 7.20
Eckerts beer sundae
three scoops Eckerts beer ice cream, beer syrup cream and brittle
€ 6.80
Nuts sundae
three scoops of speculoos ice cream with whipped cream, mulled wine cherries and a speculoos crunch
€ 8.20
Fruit sundae
with fruits, two scoops of yoghurt raspberry ice cream and whipped cream
€ 6.80
Milkshake
choice of two scoops of our ice cream, milk and whipped cream
€ 5.80
Iced coffee
coffee, two scoops vanilla ice cream and whipped cream
€ 5.80
Iced chocolate
drinking chocolate, two scoops chocolate ice cream and whipped cream
€ 5.80
Scoop of homemade Eckerts ice cream
Flavours: Eckerts beer, vanilla, stracciatella, chocolate, chocolate-chili, hazelnut, raspberry, yoghurt-raspberry, strawberry, cherry
€ 1.50
Subject to short-term changes to the menu. Information on allergens and additives is available at the counter.
There is something for every taste!
Our kitchen team reinterprets traditional dishes and mainly prepares regional and seasonal products freshly by hand. We focus on the modern, urban implementation of Franconian hospitality. Fine soups or salads, tarte flambée from the stone oven, or meat and fish specialties leave nothing to be desired. And if there's still room, it's worth taking a look at our desserts!