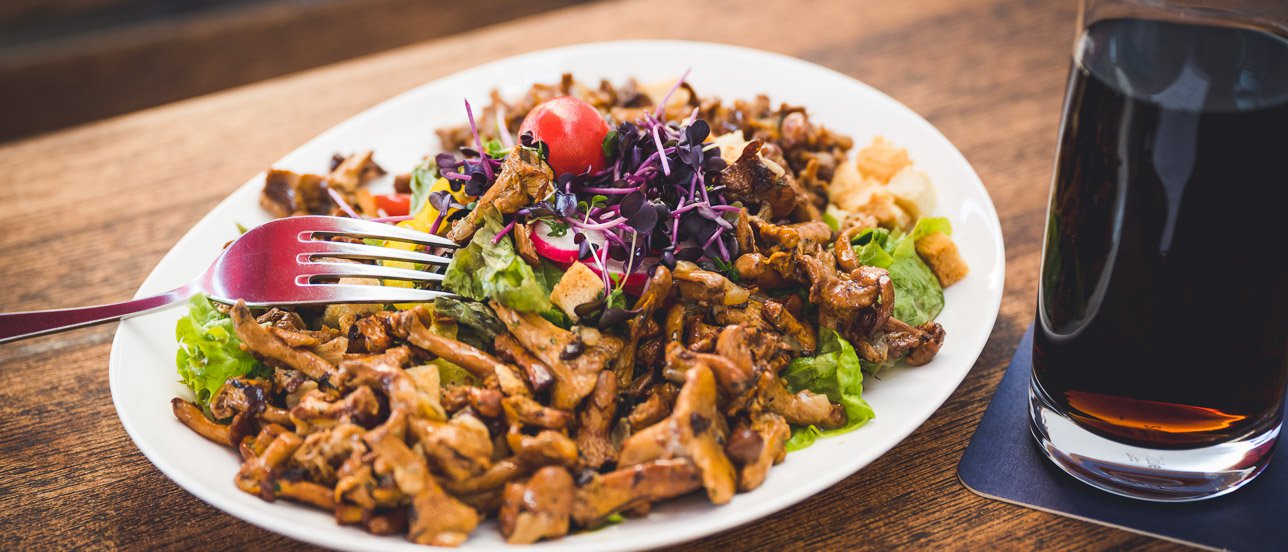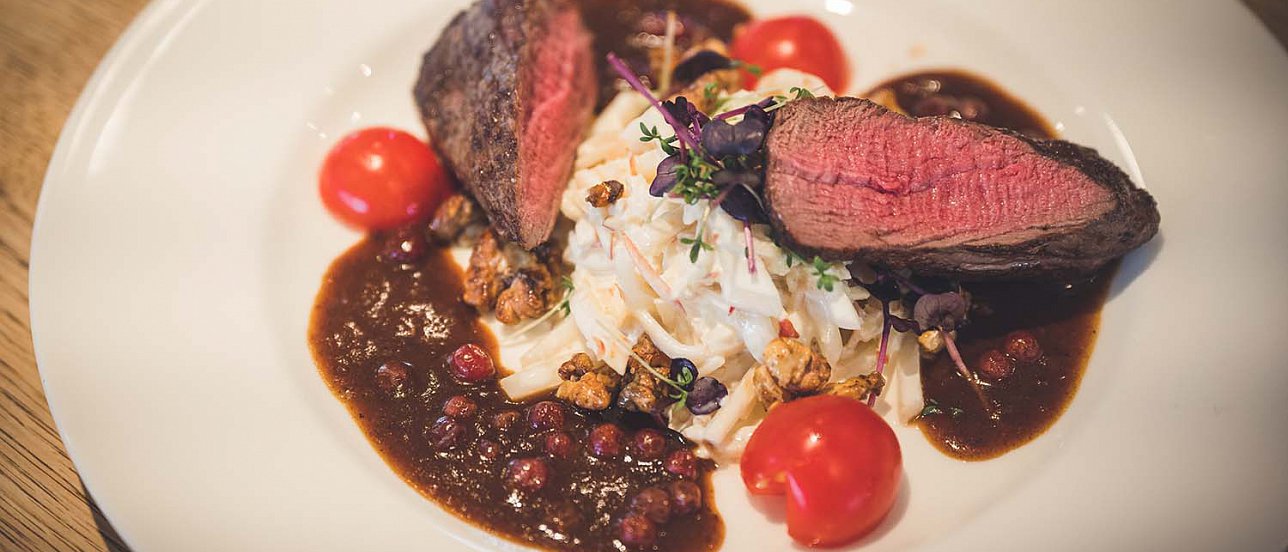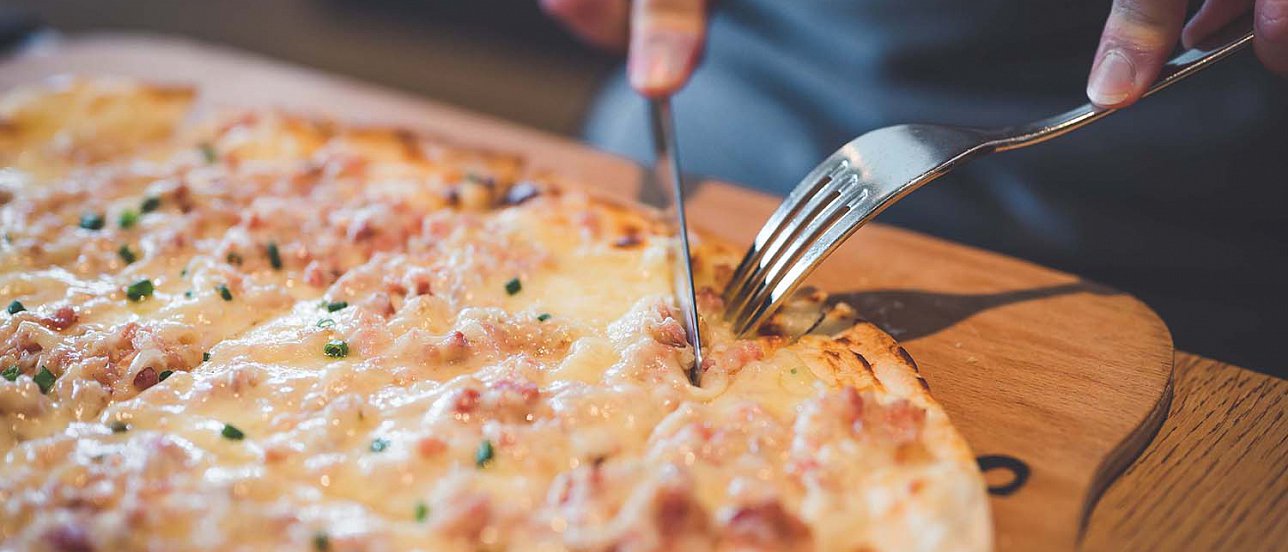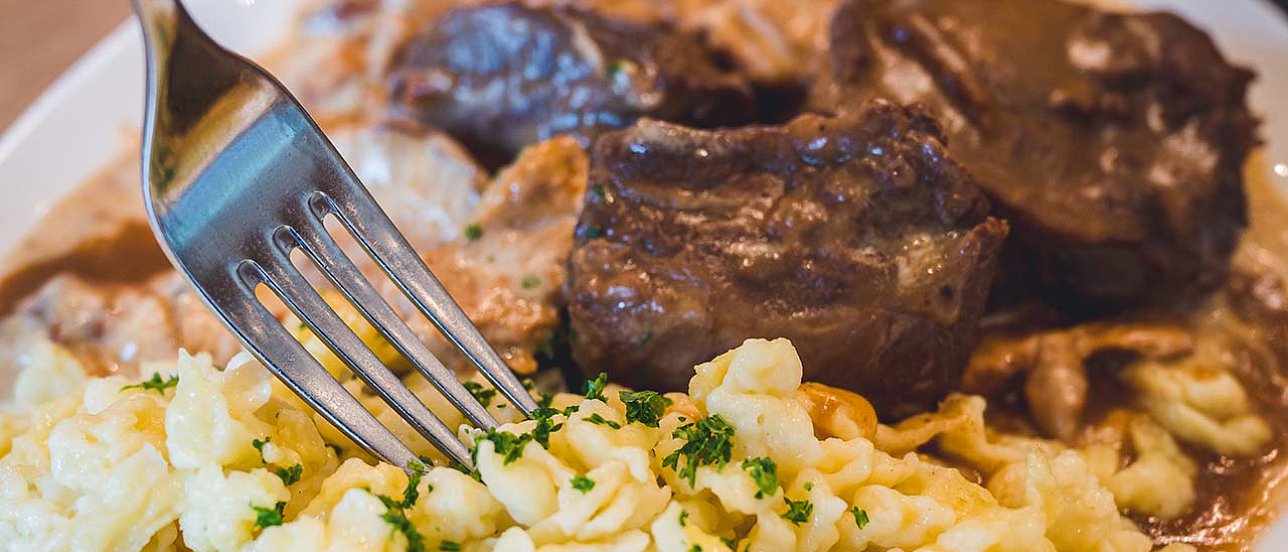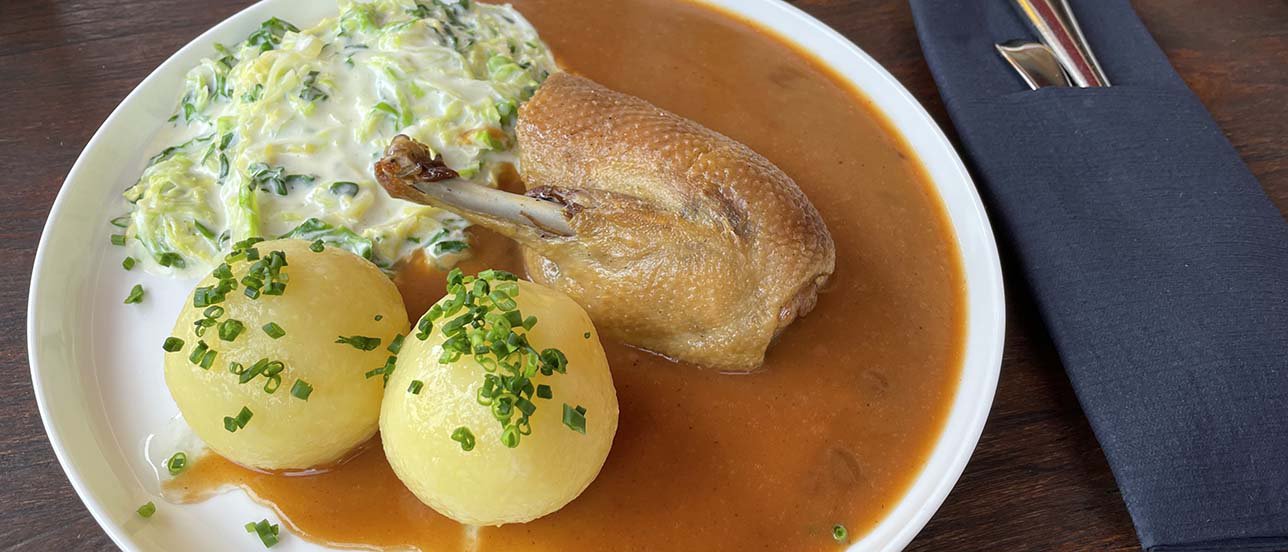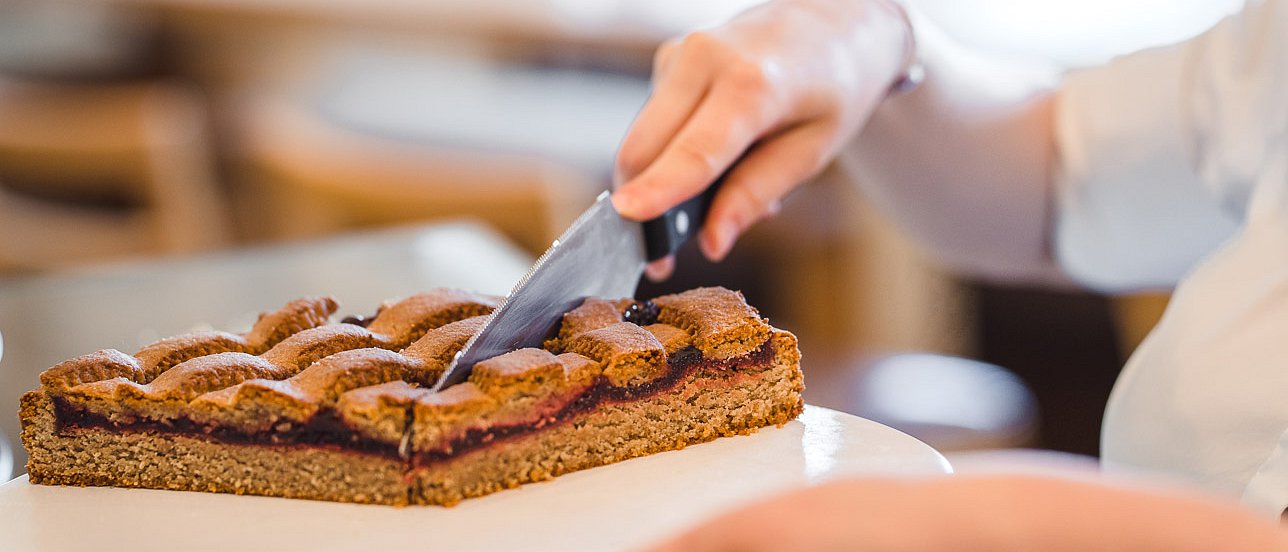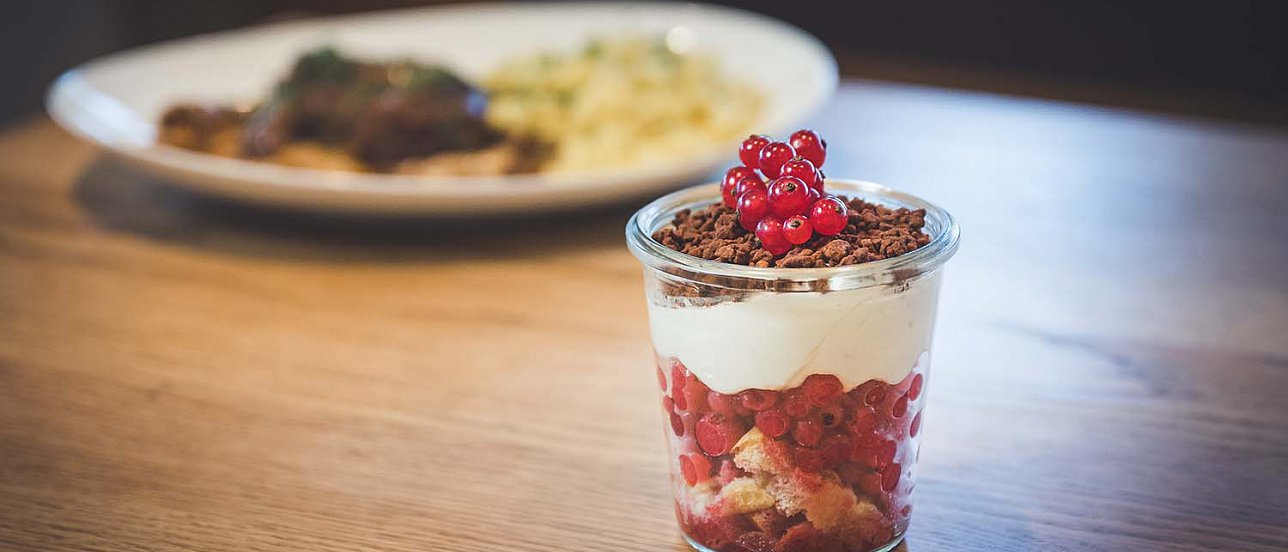 The Eckerts Dinner
Starters
5:30 pm – 9:15 pm
Deer broth with pancake strips and vegetable confit
€ 7.80
Pumpkin cream soup with roasted pumpkin seeds and pumpkin seed oil
€ 8.20
Baked goat cheese with cranberry sour cream, salad and baguette
€ 13.20
Varied leaf salad with sautéed chanterelles and baguette
€ 15.40
Saddle of venison with cranberry jus, pumpkin puree, caramelized hazelnuts and baguette
€ 16.20
Tartes and snacks
3:00 pm – 9:15 pm
Cooked cheese with farmer's bread, caramelized cumin and salad
€ 10.20
Carpaccio of Leberkäs (type of meat loaf) with wheat beer dressing, red onion pickle chutney, salad, farmer's bread and butter
€ 14.60
Tarte Classic with bacon and hard cheese, baked in a stone oven
€ 12.80
Tarte Vegetarian with vegetables and hard cheese, baked in a stone oven
€ 12.80
ECKERTS Tarte with pickled peach, chanterelles, air-dryed ham and hard cheese, baked in a stone oven
€ 16.80
Meat, fish & vegan
5:30 pm – 9:15 pm
Veggy spelt patty of pumpkin with tomatoe-orange ragout and rocket
€ 19.20
Chanterelles in cream with homemade pasta and salad
€ 21.80
Chicken breast Saltimbocca with jus "Madeira", pepper risotto and zoodles
€ 20.20
Wild boar roast with pointed cabbage and pear vegetables and poppy seed spaetzle
€ 22.40
Braised pork cheeks with creamed chanterelles and fried napkin dumpling
€ 23.40
Beef rumpsteak with creamed onions, herb butter, sald and French fries
€ 26.20
Hake fillet with zucchini vegetables, cherry tomato vinaigrette and crispy diced potatoes
€ 23.20
Friday, Saturday & Sunday from 5:30 pm:
Farm duck from the poultry farm Markus Werner from Poxdorf, with creamed savoy cabbage and potato dumplings
€ 23.20
Dessert & ice cream
"Strong & sweet" small nougat brownie with homemade ECKERTS orange-vanilla liqueur and white coffee ice cream
€ 7.80
Pumpkin seed brittle parfait with pineapple ragout
€ 8.80
Chocolate tart with red wine plums and hazelnut ice cream
€ 9.20
ECKERTS beer sundae three scoops ECKERTS beer ice cream, beer syrup cream and brittle
€ 8.80
Fruit sundae with fruits, two scoops of yoghurt raspberry ice cream and whipped cream
€ 8.80
Devil's sundae chocolate, chocolate chili and raspberry ice cream with cream and raspberries
€ 9.20
Walberla cherry sundae cherry, chocolate and vanilla ice cream, cream, cherries and grated chocolate
€ 9.20
Nuts sundae with two scoops of hazelnut ice cream, one scoop of chocolate ice cream, homemade ECKERTS orange-vanilla liqueur, whipped cream and crunchy walnuts
€ 9.80
Iced coffee coffee, two scoops vanilla ice cream and whipped cream
€ 8.40
Iced chocolate drinking chocolate, two scoops chocolate ice cream and whipped cream
€ 8.40
Milkshake choice of two scoops of our ice cream, milk and whipped cream
€ 8.40
Scoop of homemade ECKERTS ice cream Flavours: ECKERTS beer, vanilla, stracciatella, chocolate, chocolate-chili, hazelnut, raspberry, yoghurt-raspberry, strawberry, cherry
€ 2.00
Cake and torte
We offer you a selection of fine cakes and torts every day. Choose your favorite from our cake counter – whether for breakfast, as a sweet lunch snack, with afternoon coffee or at the end of a fun evening at ECCHERTS Wirtshaus.
Subject to short-term changes to the menu. Information on allergens and additives is available at the counter.
Does this suit your taste?
Our kitchen team reinterprets traditional dishes and mainly prepares regional and seasonal products freshly by hand. We focus on the modern, urban implementation of Franconian hospitality. Fine soups or salads, tarte flambée from the stone oven, or meat and fish specialties leave nothing to be desired. And if there's still room, it's worth taking a look at our desserts!